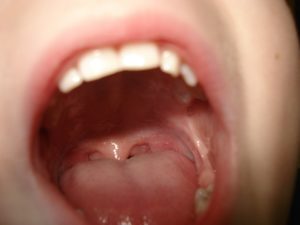 Mouth Issues
Ulcers
They are uncomfortable and mostly non-serious.  Also known as "canker sores".  Can take 2-3 weeks to completely heal.  Anything lasting over 3 weeks should be checked out by your doctor or dentist.  Ulcers can appear on the inside of the cheeks or lips, the roof of the mouth, or the tongue.  A minor ulcer versus a major ulcer is determined by the size of the sore and the layers of skin affected.  Any ulcer that is bleeding should be checked out despite the length of time.  The edges are red while the center can be yellow, white, or grey.  And they are PAINFUL!!
Ulcers can be caused by acidic or spicy foods, braces, stress, hormones, and some medications (such as beta-blockers for blood pressure or NSAIDs).  Nutritional deficiencies can increase your risk of ulcers.  Malabsorption due to conditions like celiac or deficiencies in B-vitamins and iron are the most common culprits.  Also, decreased immunity can make the skin inside the mouth more prone to ulcer recurrence.
Thrush
This is a yeast infection the mouth caused by the overgrowth of Candida, known as oral candidiasis.  It appears as white patches on the inside of the cheeks, tongue, or roof of the mouth, and the spots cannot be scraped off.  Candida is normal in the body and is kept in balance by the rest of the body's normal flora.  Overgrowth can occur after antibiotic treatments, during times of decreased immunity due to treatments or disease states, or from inhaled steroid treatments.
Thrush is treated with a topical antifungal that the doctor directs you to swish around in the mouth to coat the affected areas, usually Nystatin.  If yeast is wide-spread, a systemic antifungal will be used.  Probiotics are a great way to keep your normal flora in balance.
Angular cheilitis (ky-ly-tis)
Cheilitis = inflammation of the lips.  This is the cracking that can occur in the corners of your mouth.  Many sources will tell you this is caused by a vitamin deficiency – like B-vitamins, iron, and zinc.  Other times, it may be a wound caused by contact dermatitis from increases contact with the tongue or your hands, and then they may become infected with normal skin bacteria or other bacteria in saliva.  An infected wound is one that doesn't ever appear to heal.  Fungal infections, in the same way, cause the skin to crack open and appear overly dry and never-healing.
Lie Bumps
Transient Lingual Papillitis (swollen taste buds).  They can appear to be white or red, and they can be asymptomatic or very bothersome.  Not sure what exactly causes it.  Definitely NOT caused by lying.  *I used to think they were "lye bumps" as in sodium hydroxide that is a strong base and used to be popular as a detergent.*
Cleft lip/palate
A birth defect that has a strong genetic component, but also linked to environmental components that have not been pinpointed yet.  A cleft lip or palate is a result of parts of the mouth and face not fusing together during fetal development, and requires surgical correction after the baby is born.  The oral and nasal cavities are supposed to be separate and when they are not, it can increase the risk of sinus and ear infections.  Ear tubes are usually recommended.
Even after repair, a child may require speech and occupational therapies to develop the muscles needed for normal speech and eating habits.  Many times, a follow-up surgery is required as the child grows, and many other types of mental support are needed.
Bonus
*Mouth Cancers: the most common cause of mouth cancers is tobacco use (smoking, chewing).  It can start out as something that appears minor like a mouth sore, but can develop quickly into something deadly.  In the end, it can result in large areas of the mouth having to be surgically removed.
Callback
Connect with me
Support us on Patreon
Join the Pharmacist Answers Podcast Community on Facebook
Subscribe: iTunes, Stitcher, GooglePlay, TuneIn Radio
Music Credits: Up In My Jam (All Of A Sudden) by – Kubbi https://soundcloud.com/kubbiCreative Commons — Attribution-ShareAlike 3.0 Unported— CC BY-SA 3.0 http://creativecommons.org/licenses/b…Music provided by Audio Library https://youtu.be/tDexBj46oNI
---